Lifts for Wheelchairs and Scooters
Newby-Vance Mobility has installed hundreds, if not thousands, of scooter and wheelchair lifts for customers throughout the Oklahoma region over the past 20+ years. Depending on your vehicle, there may be more than one wheelchair or scooter lift available for your car, truck, minivan, full-size van, or SUV. In general, there are three types of lift setups available:
Interior Scooter and Wheelchair Lifts
Bruno Joey Scooter & Power Chair Lift
This easy-to-use lift is so simple you only need one button to operate it. Simply drive your electric scooter or power wheelchair onto the lift, press the button, and your scooter or power chair will be lifted and tucked into the trunk of your vehicle.
Bruno Curb-Sider Scooter & Power Chair Lift
Available in a variety of configurations, the Curb-Sider features a compact design that allows for the third row to be used when a mobility device isn't being stored. Easily load your scooter or power wheelchair by connecting the docking device and pushing the loading button.
Bruno Big-Lifter Scooter & Power Chair Lift
The Bruno Big Lifter lifts and stores your scooter or power chair inside your vehicle with a combination of power and manual operation. Let your Big Lifter do the heavy lifting for you, at a lower cost!
Discover the many more interior scooter and wheelchair lifts for cars, trucks, SUVs, or vans we offer at Newby-Vance Mobility!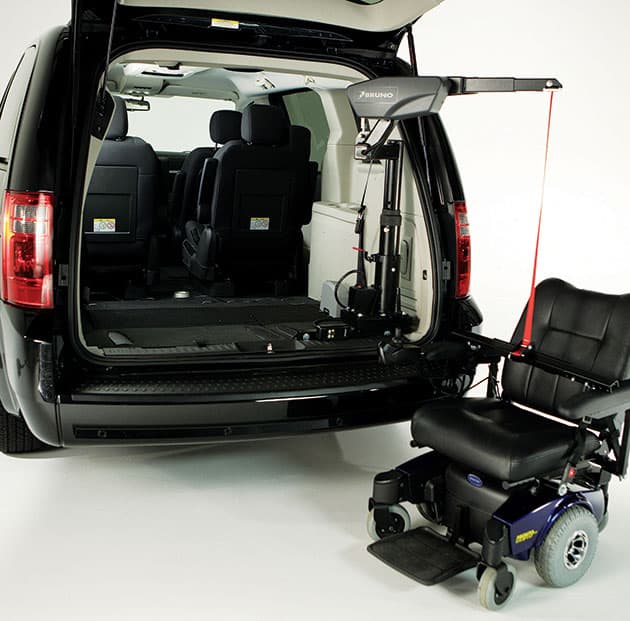 Full-Size Van Wheelchair Lifts
These types of lifts are designed to pick up an individual while they are sitting on their electric scooter or power chair and transport them to the inside of their full-size van.
Under Vehicle Wheelchair Lift
This UVL wheelchair lift is stored under the vehicle when not in use. With this vehicle wheelchair lift mounted underneath the vehicle, it remains out of your way until needed. That means unobstructed access for ambulatory passengers and cargo, a clear side view for the driver, and maximum interior space for passengers and their scooters or wheelchairs-something your friends and family will appreciate on every trip.
Side or Rear Interior Mount
Designed for installation in the side or rear doors of a full-sized van, three standard models with platform lengths up to 51" ensure there is a van wheelchair lift to fit your needs. Dual hydraulic lifting arms give your lift the strength and dependability that you will appreciate for many years to come.
At Newby-Vance Mobility you will find many full size van wheelchair lifts for personal and commercial use!
Exterior Scooter and Wheelchair Lifts
With these exterior scooter and wheelchair lifts, you can easily transport your wheelchair or scooter on the back of your vehicle, allowing you to have more seating and cargo space available. If you are looking for a wheelchair or scooter lift for cars, this may be the perfect solution to accommodate your needs.
Bruno Out-Sider
The Bruno Out-Sider is one of the more popular exterior lifts due to its ability to be easily transferred to another mobility adapted vehicle. This lift features a drive on/off platform and an easy to use single button operation.
Bruno Chariot Lift
The Bruno Chariot Lift is more easily adaptable to a variety of vehicles due its independent suspension that carries the weight of the electric scooter or power wheelchair. It's also user-friendly with 360-degree spinning wheels.
Learn about the other exterior scooter and wheelchair lifts we offer at Newby-Vance Mobility for your car, truck, SUV, or van!
Chair Topper
Developed to assist wheelchair users who are able to transfer from their scooter or power wheelchair to their vehicle, this exterior roof-mounted wheelchair lift automatically folds and stores a conventional folding wheelchair inside a stylish, weather-resistant car-top compartment. The need to store your wheelchair in the trunk or backseat is eliminated, allowing family and friends to enjoy the comfort of your vehicle.
The Chair Topper's universal mounting systems ensure this wheelchair lift will fit many automobiles and light-duty trucks. It adds only 21-1/2″ in height, and the sleek plastic shell gives a finished, automotive look. A convenient hand-held controller operates the folding, lifting and storing of your wheelchair. It takes only 30 seconds to complete the cycle, and the smooth operation ensures that your chair is carefully handled and transported without damage.
This wheelchair lift for vehicles is available in driver- or passenger-side configurations. Due to its horizontal operation, the Chair Topper may be operated in home or public parking garages, with a minimum amount of space required beside the vehicle-a great feature for tight parking situations.
Wheelchair Lifts For Pickup Trucks
Pickup trucks can be adapted for mobility with wheelchair lifts for a truck hitch or truck bed. Truck beds offer large amounts of storage space, which make them very practical mobility adapted vehicles for wheelchairs and scooters. Truck bed lifts are a popular option, but if you're seeking to preserve the space in your pickup bed, there are compact options that can connect to the hitch in the back.
Bruno Out-Rider
The Bruno Out-Rider is a wheelchair lift or electric scooter lift designed for pickup trucks. This lift is able to pick up your scooter or power chair and deliver it directly into the bed of the truck. The lift is also capable of delivering your scooter or power chair near the driver's door or given the application, near the front passenger door.
Wheelchair Lifts For Truck Hitch
If you'd prefer to preserve the space in your truck bed, there are alternative options. The Bruno Curb-Sider is a hoist-lift that's not connected to your truck bed. It's often used to preserve a third-row in vans and SUV, but works just as well for this purpose. The Bruno Back-Saver is an option for lighter, folded manual wheelchairs.
Find Your Perfect Accessible Vehicle
Browse our extensive inventory of mobility vehicles online or talk to a representative about your specific mobility needs on and off the road.